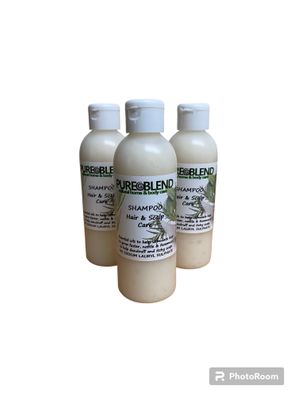 SHAMPOO - SODIUM LAURYL SULPHATE FREE
Pure Blend
$14.00
These shampoos are made using ammonium lauryl sulphate, which is very mild and not to be confused with sodium lauryl sulphate, which is the one to keep away from as its molecules are small enough to enter the body and makes your hair fall out sooner than it should. Whereas A.L.S has bigger molecules and therefor the better choice. It is more conditioning than the sulphate free formular.
Hemp (contains NZ hemp seed oil, birch, cedarwood patchouli, vetiver, opoponax, lemon & lime essential oils.) for dry damaged hair
Olive Sandalwood & Rose, contains olive oil & sandalwood & rose natural fragrance oils
Argan & lavender contains organic Argan oil & lavender essential oil (normal to dry hair)
Coconut & Mango normal hair contains coconut oil & mango & coconut natural fragance oil
Avocado Patchouli & ylang ylang for dry hair contains avocado oil & patchouli & ylang ylang essential oil.
Hair & Scalp Care for Hair Growth, itchy scalps and anti dandruff contains avocado oil, nettle tea& essential oils of rosemary, rose geranium, eucalyptus, cypress, juniperberry & lavender.
SKU: S-SLSF250OSR