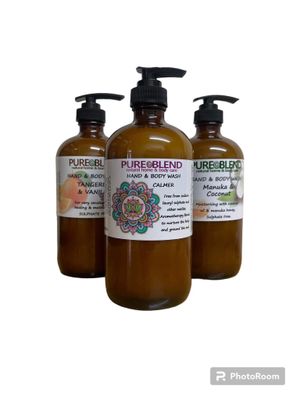 HAND & BODY WASH -SODIUM LAURYL SULPHATE FREE
Pure Blend
$80.00
These body washes are free from sodium lauryl sulphate, & Vegan, they have extra moisturisers in like glycerine & coconut oil to protect sensitive skins.
glass options available
Most herbs and oils that we use are organic. Tested on very sensitive skin. (unless allergic to a particular ingredient). All body washes are best used with a mesh bath ball or sponge so they froth more making it easier and more economical to use.

Contains: Distilled water infused with organic chamomile, calendula or kawa kawa, Ammonium lauryl sulphate , Coco betaine, coconut , avocado, hemp or rosehip oils, glycerine, citric acid, xanthan gum, potassium sorbate, pure essential oils & or natural fragrance oils.

SKU: BWSF5LRL